Included -- Women in F class - from Cathy Hagen
The Week ahead
After a wind whipped and chilly weekend at Gopher long range rnatches last Sat and Sunday, competitive shooters can fire prone or position competition from the warm comfort of the Mpls. Rifle Club's 300 m shooting house. Don't like to pull targets with your 300 meter shooting -- no problem here as the computer operated targets down range plot the shot right on the computer screen by your padded firing position. Now that's nice conditions for Shooting!
From
Brian Shiffman:
"Greetings to all.
It appears that summer just suddenly ended; bummer. It may be chilly out but it will be comfortable in the 300 meter shooting house this Sunday, October 14 for the October 300 meter match.
Pre-registration is now open for First (10AM) and Second (Noon) relays. Send your request by return email. I will respond to those requesting a particular relay starting time as I receive them.
As we head forward, these next few months usually produce the most challenging wind conditions.
See you at the range."
The Full Bore matches at GRRC last Sat, saw about 20 hardy soles brave the 30 deg morning temps, and the constant breeze with gusts topping 30 mph. Shooters fired strings of prone slow fire starting from the 300 yd line and moving back through the 600, and 800 yd line before finishing with 20 shots from the 1000 yd line.
Up front, it was
Brian Mrnak
winning the first two matches in the sling class with scores of 149/150.
Paul Cross, Erik Rhode
and
Eric Hazelton
were close behind. F- class shooter Eric Johnson pulled out an early lead by a few pts over John Rykhus, and Scott Brabec
At the 800 yd line the top three iron sight shooters, Eric, Hazleton, Erik Rhode,and Brian all fired the same 147score. None of them were ready to concede the day yet.
Erik Johnson
shot the top F class score of the day to win the 800 yd line in that class and pad his overal lead by a few more points.
At the 1000 yd line Erik Rhode overcame bad light, and winds gusting in the 20s, to fire an awesome 145 score and get the match win for that yd line. Brian Mrnak's 142 in such difficult conditions is equally great shooting, and while only 2nd in this match, Brian's consistant top scores count up to give him the Overall Match Win for the day. Great shooting Brian.
Jo
hn Rykhous
fired an amazing 143/150 on the tough F-class 1000 target only to fall short by one pt to Erik Johnson who added that match win to his column and posted the Highest F-class score for the day of 593-22X.
Erik is the F-class Full Bore match winner.
Great shooting Erik!.
Click Here
for Slide show of match -- includes complete results
F- Class News
Women in F-class shooting
From Cathy Hagen
Okay, so if you have read any of my blogs you may have realized my husband and I are into competitive shooting with both pistol and rifle. This summer I dragged him into a newer shooting sport we had not tried yet. F Class shooting. We are shooting on the F Class league at the gun club we belong to, and will be shooting the State Championship this weekend.
So what is F Class? F Class shooting is high power rifle shooting in a prone position, using either a bipod or a front rest and a rear bag. Basically it is benchrest shooting on your belly. Shooters also use high power scopes (20x to 42x power). The distance we shoot is 600 yards. Yes, that's a long way, think of 6 football fields lined up. And it is FUN!
This is a picture of my F Class rifle. It is a Savage Model 12 and shoots .223 bullets. That is basically a .22 bullet in a larger brass cartridge to give it the oomph to travel 600 yards and hit the target accurately. The rifle is a single shot, which means I load the bullets one at a time and close the bolt on the action. You can see the bolt at the end of the silver rod. I push that forward with the bolt and then lock the bolt with a downward movement once it is in place. I have a 20x power Leupold scope on top of my rifle, and you can see my bipod rest on the front and my back rest in the back under the stock. My score cards were in the plastic bag since it was raining on Monday night when we shot.
Here is my husbands F Class rifle. This was taken on a nice sunny day. He has a wood stock on his. The yellow flag is a safety flag so everyone knows the gun is not loaded when you are not shooting.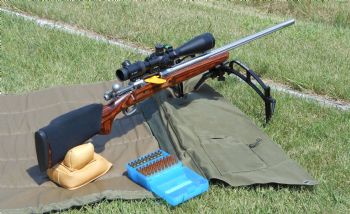 Here is how F Class is shot.

See the front rest under the barrel with the guy with the tan shorts? That is a really nice front rest, with super sensitive adjustments. The shooter has the adjustment knob in his left hand and can make minute adjustments for his rifle as he looks in the scope. The rest alone cost is at least around $1000 I believe.
Here is a custom made gun one of the shooters has. With the gun, scope and front rest there is probably well over $6000 sitting there.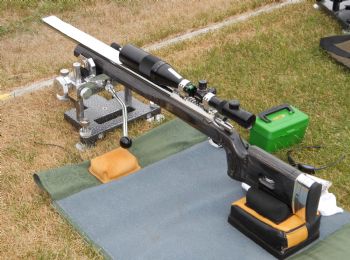 Here is a view down the firing line last Monday.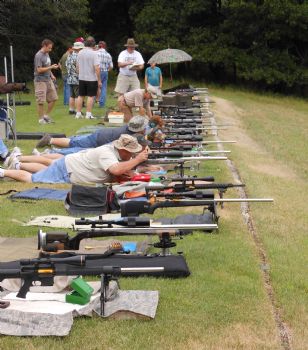 So that is a brief intro to F Class Shooting. I am really having fun shooting at 600 yards this summer, something I just thought would be fun to try. I am averaging around 93% with scores from 185-189 out of 200 possible. We shoot 20 shots for score when we shoot. We have to shoot the 20 shots and our 2 sighters, in 22 minutes. And even better I am out-shooting Jim for a change.

Hope you enjoyed the mini tutorial and photos on F Class shooting.
300 meter match on Sunday, Oct 14th. Shoot under comfortabe conditions at the Mpls Rifle club near Now Then MN.